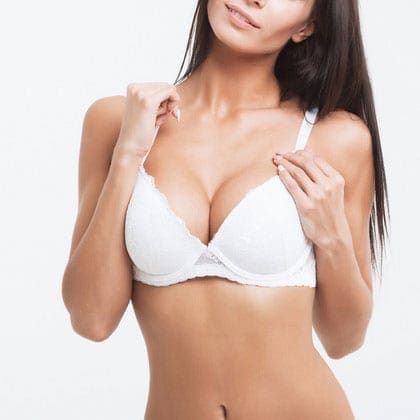 Implants or Uplift? Choosing the Breast Procedure That's Right for You.
Deciding whether to have breast implants or breast uplift is one of the first choices you'll be faced with when you opt for breast enhancement surgery.
The two procedures are quite different so it's helpful to know what's involved so you can make an informed decision.
Your body shape and the look that you are hoping to achieve will determine whether uplift or implants are best for you. In some cases, you may decide to combine both procedures to achieve optimum results.
Here are the differences between the two procedures explained…
Breast Implants
If you are unhappy with the size or shape of your breasts (a problem that can be exacerbated by weight loss, ageing or childbirth), breast implants are ideal as they create fuller breasts and increase cup size. The procedure is called breast augmentation and it is the most popular of all cosmetic procedures in the UK.
Implants are usually made from silicone (and occasionally filled with saline for reconstructive purposes) and traditionally come in two different shapes – round or teardrop (anatomical) shaped. Round implants create a fuller looking breast and more defined cleavage whereas teardrop-shaped (anatomical) implants are more natural-looking. Interestingly, this traditional classification of breast implants has now been blurred due to the introduction of so-called Motiva Ergonomix implants which are ultra  soft and behave like normal breasts. Your surgeon, Mr Banwell, will discuss your preferred option with you.
In Mr Banwell's practice we use Motiva implants, which are the first in the world to contain Q Inside Safety Technology. An electronic serial number identifies the implant's manufacturer, date of manufacture and other data, even from outside the body. This helps to provide greater peace of mind for women.
Breast implants can either be placed immediately behind the breast, or behind the muscle of the chest (dual plane). Again, your surgeon Mr Banwell will explain the benefits of each approach depending on your existing breast tissue and your preferred implant size.
You will also have the opportunity to find out more about our Crisalix 3-dimensional breast imaging service which may help you to decide what size implant to choose for your breast augmentation with Mr Banwell.
Breast Uplift
Breast uplift (mastopexy) surgery corrects the appearance of sagging breasts or ptosis (pronounced 'toe-sis')and can help restore them to their original youthful position by lifting the nipple to a higher position and removing excess skin.
Ageing, weight loss, breastfeeding and gravity can all affect tautness of the breast and this can have a detrimental impact on confidence and self-esteem. Women choose breast uplift (mastopexy) surgery to regain a more youthful appearance  and boost their confidence in clothes and underwear or swimwear.
This procedure might be for you if:
your breasts have begun to droop or sag, causing you to feel unhappy or self-conscious
the skin beneath your breasts if becoming chaffed or sore
your nipples point downwards
overall you are satisfied with the size of your breasts but would like to correct the sagging
Your plastic &cosmetic surgeon, Mr Banwell, may recommend one the following uplift procedures:
If there is minimal sagging of the nipple height, periareolar incision may be used to correct the problem. The incision follows the shape of the areola, which helps to hide any scarring.
For moderate sagging, a vertical breast reduction incision may be recommended. This follows the areola and then extends downwards (so-called 'lollipop' scar).
For maximum uplift, an inverted T-incision (anchor pattern scar) is recommended. This uses an incision that follows the areola and then extends downwards and along the breast fold.
Combined Uplift and Implant
Following discussions with your cosmetic surgeon, Mr Banwell, you may decide to combine the two procedures. The benefit of this is that you achieve optimum breast enhancement, with fuller, more youthful-looking breasts, but you only have one hospital admission and one recovery period. You need to weigh this against the increased risk of more extensive surgery, although these risks associated with both procedures is relatively small.
To discuss the options please click here to book a consultation or call 01342 330302.