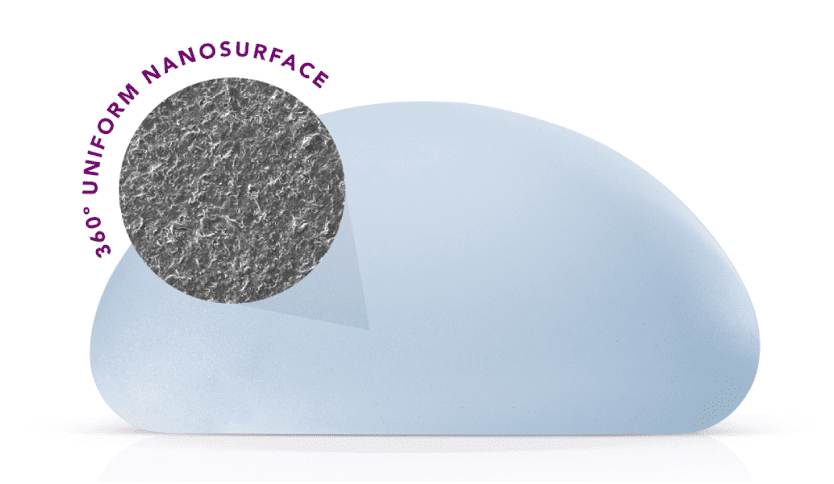 Motiva – Mr Banwell's preferred Implant
Why Mr Banwell chooses Motiva implants and what makes them the better option?There has been lots of cover recently on the news on breast implants and we know you might feel overwhelmed, confused about certain terms thrown your way, or even questioning if a breast augmentation or reconstruction with implants is worth it or even safe for your body.
So I know what your next question will be, are implants safe? Lets give you some more information directly from Motiva.
Most of the negative news has to do with complications primarily associated with certain implant surfaces or shells in older generations of breast implants. The shell is the envelope that keeps the filling inside the implant, and its surface has direct contact with the body's tissues when implanted.
Textured shells, which are from the 80s, are created by dipping the shell in either salt or sugar or coating them with polyurethane (PU) before being dried and filled with saline or silicone gel – these processes are precisely what create texture on a shell. Unfortunately, such processes also make the final texture very irregular. Irregular surfaces are associated with more bacterial growth and the formation of hard, fibrous biofilm around the implant.
Some amount of capsule/biofilm formation is a normal reaction by our immune system to create tissue that isolates foreign objects from the rest of our body. But excess bacteria and biofilm can lead to issues such as capsular contracture (which is when the fibrous capsule becomes so hard and thick that it squeezes the implant, sometimes causing pain and/or distorting the breast shape).
Another complication often linked to textured implants is BIA-ALCL (breast implant-associated anaplastic large cell lymphoma). Different from breast cancer, BIA-ALCL is a rare cancer of the immune system that can develop in the fluid between the implant and the surrounding capsule.
Other complications you might have heard of, like implant rippling, rupture or leakage, are often associated with traditional smooth surfaces, which date back even further – the 60s.
There is good news in the middle of all this. In the same way fashion and technology have evolved over the years, so too have breast implants. While several regulatory agencies across the world have recommended the use of smooth implants, it's important to know that not all smooth surfaces are created equal.
Like with anything else, when we continuously use outdated items in the present, it can cause problems for us down the road. Through observing industry trends and years' worth of research on implant surfaces and the human body's reaction to them, we've noticed that these issues in the older (4th and 5th) generations of breast implants can be corrected or improved.
You might be wondering how Motiva® is any different. What kind of evolution makes Motiva® the 6th generation of breast implants?
With SmoothSilk®, your body doesn't react the same way as it does to other implants. SmoothSilk® is our unique biocompatible surface, designed to minimize irritation and inflammation, which in turn minimizes the risk of capsular contracture and BIA-ALCL. Motiva SmoothSilk® comes with an overall complication rate of less than 1%.
Another unique feature to Motiva Implants® is BluSeal®, which is a barrier layer all around the implant with a light blue biocompatible tint that allows surgeons to visually confirm the barrier layer's integrity, meaning they can easily see that the implant doesn't have manufacturing errors in its shell. A uniform, intact barrier layer prevents gel leakage from the implant's shell. With BluSeal®, Motiva® is the only implant in the world with a barrier layer that can be visually confirmed.
And finally, all Motiva Implants® are covered by the Always Confident Warranty® against rupture, and by our Product Replacement Policy against Baker Grades III and IV of capsular contracture for a period of 10 years. We also offer Extended Warranty Programs for 2 or 5 years, depending on whether your implants include Qid®, an optional digital passport we offer patients for instant, non-invasive retrieval of important information about their implant(s).
These, and other safety features, are what make Motiva Implants® a smart, beautiful choice.
Know that Motiva® is not just another brand of breast implants – it is one that puts women's health first, and after nine years on the market and more than 800,000 implants sold globally, our community has proudly grown to over 500,000 patients.
We hope you now have all the information you need about Motiva Implants® to make a confident decision for yourself.
For more info about our procedures please check out our FACT SHEETS or to chat to any of the team give us a call on 01342 330302